Levelling Systems
Old Stonemasons Ramblings: Tilers & Trade Shop are proud suppliers of this system, our early input into the design and manufacture of this system of levelling clips, has made them a fantastic system. One of the driving forces behind our decision to help was due to the fact they are Australian made here in Queensland. T&TS original design were sky blue clips with black wedges.
Proud Australian Company.
With their Toolmaking and Injection Moulding expertise, They have designed and developed the highest quality tile levelling system. All of their products are Australian made and manufactured in their facility located in QLD.
Clips have a unique design that assists tilers in achieving quick and seamless installation. Their clips have a built-in spacer and unique easy break design that breaks cleanly underneath the tile every time.
Wedges are designed with a broad rounded back for ease of use, eliminating the need for tightening tools.
Tile Clips and Wedges are suitable for floor and wall installation and can be used on porcelain, ceramic, vitrified, marble, granite and stone tiles.
These products have Granted Patents and Registered Designs in Australia and New Zealand and Granted Patents in the USA and Canada.
You can easily archive professional results and save time during tile fixing with a Tile Clip Leveling System. This 2 part system eliminates lippage, guarantees a consistent finish, helps correct warping and corrects tile bowing.
Proper use of the Leveling Clips, part A, results in consistent grout lines and level tiles of the same or different thicknesses.
The wedges, part B, lock the tile at an even height for a lippage-free finish (sold separately). Clips will break below the tile surface for fast removal once Tile Adhesive has dried. This system is ideal for both professional and DIY installers.
Perfect to use with all tiles including large-format rectified porcelain, thin porcelain tile, marble and stone
Durable nylon construction for a secure installation
Part A of the clip has a specially designed break-off point, making clip removal a snap. Part B of the clip can then be removed and used again on your next project.
Produces 1/16" joint spacing
Different size clips are now available for Porcelain and Stone.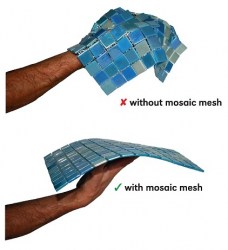 300 x 300mm. Designed to fit behind mosaic tiles to ...